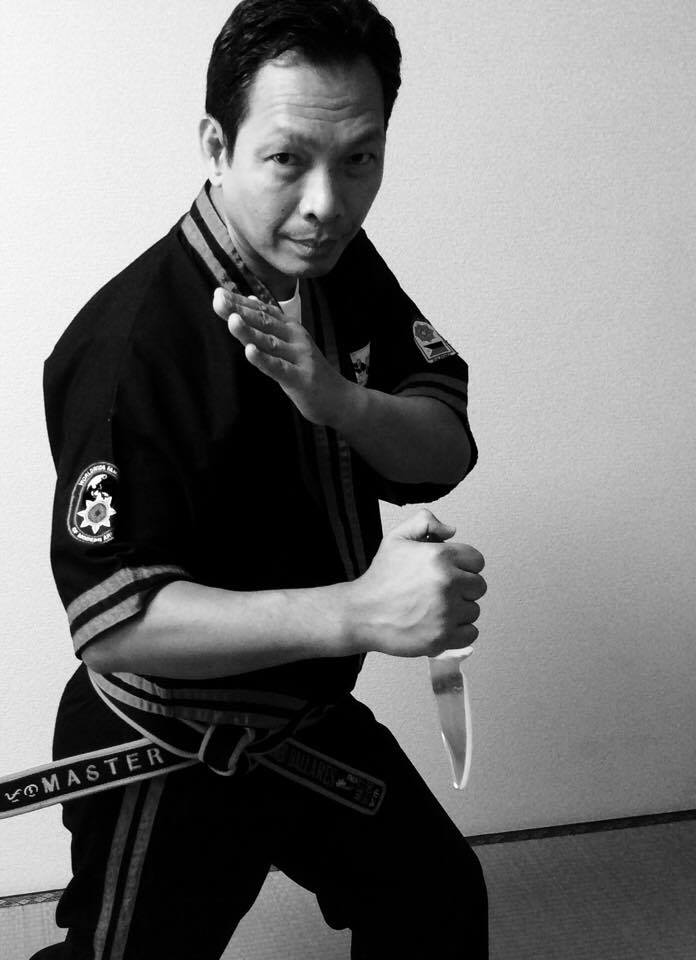 Romeo A. Ballares began studying Arnis Escrima Kali in his elementary school years at the age of 12 back in his province of Masbate and Visayas and studied Yin Yang Tao Kali under Master William Arescon.
When he moved to Manila to attend university he had the chance to study different styles of FMA under different teachers. This included training with the late Grandmaster Tatang Illustrisimo of Kali Illustrisimo, Master Roland Dantes of Modern Arnis, Master Allan Resterio of Modified Arnis, and Master Nick Eliazar of Balintawak Nickelstick.
He also involved in teaching at the American Embassy, Manila, Makati Police Department and De La Salle University before coming to Japan in 1997.
Now he intensively updating with his Grandmaster from the international Modern Arnis Federation training the Classical Arnis under the Gm. Cristino Vasques Gm. Bambit Dulay. Gm. Rene Tongson.
Recently, He Attended the 4th, 5th, and 6th World Filipino Martial Arts held in Boracay and Palawan, Negros, Philippines and competed at an Arnis Tournament in Iloilo winning the gold last 4TH festival and 6th FMA as one of the instructor and received his full pledge Master certificate that year.
Apart from the Filipino Martial Arts, He is also currently a member of the instruction staff at the World Aikido Yoshinkan teaching the Tokyo Metropolitan Riot Police.
Master Romeo is now on his twenty year teaching with a goal of further propagating Filipino Martial Arts and Culture.
Contact
Email

Location

Japan
Return to Bios