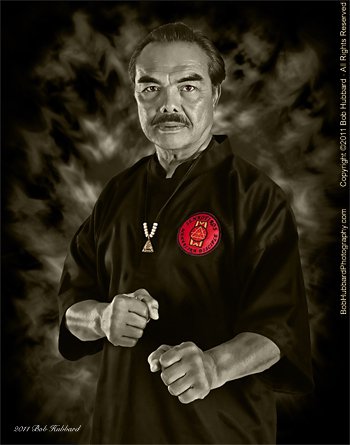 Grandmaster Max M. Pallen
was born on January 31, 1941 in Odicon, Pasacao, Camarines Sur, Philippines to Chief Petty Officer (U.S. Navy) Zacarias Pallen (deceased) and Mrs. Luz Moratillo Pallen of Malolos, Bulacan, Philippines, but originally from Albay Camarines Sur, Philippines. Grandmaster Pallen is the third child and eldest of all 8 brothers.
During World War II his father was captured by the Japanese and sent to Capas, walk the death march with other Filipinos and Americans prisoners of war in the Philippines but was rescued and was released in Japanese prison in the Philippines in 1942. It was in 1945 when he was exposed to the Philippine martial art by his grandfather Luis Moratillo and also exposed to the Filipino boxing ("panuntukan") by his father "Kid Baron" a boxing fighter from Hawaii, USA, It was during the Pallen's family residency in Sipocot, Camarines Sur, Philippines where his grandfather lives and became his mentor. Grandmaster Max M. Pallen experiences in street fighting goes back to his younger years in the Philippines, growing up there with regional environment and street fighting challenges among younger teenagers and adults.
Grandmaster Max M. Pallen was a young engineering student in the University of Nueva Caceres in Naga City, Camarines Sur in the Philippines. In 1959 to avoid unfortunate future life situation for Max, his father thought that it would help him develop a more prosperous future by sending him to Honolulu, Hawaii in United States.
Grandmaster Pallen decided to move to California a year later. Because of financial difficulties, at the beginning it was hard times for him in California. Worked in the farm with the other Filipino farm workers "manongs" just to have a place to eat, sleep and minimal work in pruning, picking fruit trees, but once Grandmaster Pallen became stable after few years in United States, he decided to return to the Philippine to pursue his grandfather's family Filipino martial art system. He also explores and researches other Filipino martial art systems here in United States under some of the best masters in Filipino martial art until today, his quests for Filipino martial art skills continues through his constant travel to Luzon island, Visayan island and Mindanao island in the Philippines as well as other Countries.
In memory of his grandfather Luis Moratillo, he revives Senkotiros Arnis in the year 2000. Grandmaster Max M. Pallen is certified instructor in Kali-Villabrille System, Modern Arnis-Remy Presas System, Balintawak- Saavedra System. He also trained and explored Bahala Na- Giron System, Pekiti tirsia- Gaje System, Doce Pares-Canete System, Baraw Sugbo- Ceniza System and Mantas Daga- Garrucho/Ibe System. Blending SenkotirosArnis with the knowledge's and skills earned and gained from the other Filipino martial arts masters Senkotiros Arnis became a complete Filipino martial art system of its own.
Grandmaster Max M. Pallen, is a martial arts teachers teacher, an Author, Senkotiros Arnis Fundamentals re-published book form last February 2013.
Was Hall Fame recipient by: Eastern USA International Martial Arts
World Head Family of Sokeship Council
Affiliated Martial Arts Promoters Association
Filipino Magazine Man of the Year 2001 Award
Nobility and Knowledge Award-Filipino Magazine 2009
Founders Member of World Black Belt www.worldblackbelts.com
United States WEKAF Director 1988-2000
California First Modern Arnis Commissioner- 1973
Currently the President of the Unified Filipino Martial Art Council

His other accomplishments includes the first established Modern Arnis school in America, and first Modern Arnis Instructors located in Oakland, California in 1973, very instrumental of Modern Arnis Great Grandmaster Remy Presas, in Coming to United States thru the petition invitation to be part of the Asian Martial Arts Exposition in Oakland, California initiated by Grandmaster Max M. Pallen and the Filipino Community thru the California Attorney General Evelle J.Younger and the Philippine Bureau of tourism in 1974.
Grandmaster Max M. Pallen continue to develop Senkotiros Arnis, his system of Filipino martial art and has worked tirelessly to perpetuate the martial heritage of the Philippines and has establish himself as a consummate competitor, instructor, coach, martial arts tournaments promoter, and Filipino martial art consultant, also devoting his time to produce instructional DVD's, E-book and authoring books on Senkotiros Arnis as well as traveling and exploring other countries martial arts. He has three sons, Joseph, Max Jr., Jordan and 5 grandchildren Jordan Jr, Max Jr. II, Bianca, Jonathan and Vanessa, They are all martial artist for life carrying the legacy of what I had started.
Contact
Website

Email

Location

Senkotiros Arnis Inc.
P.O. BOX 3124
San Leandro, CA 94578, U.S.A.
Return to Bios