Grand Master Julio Felices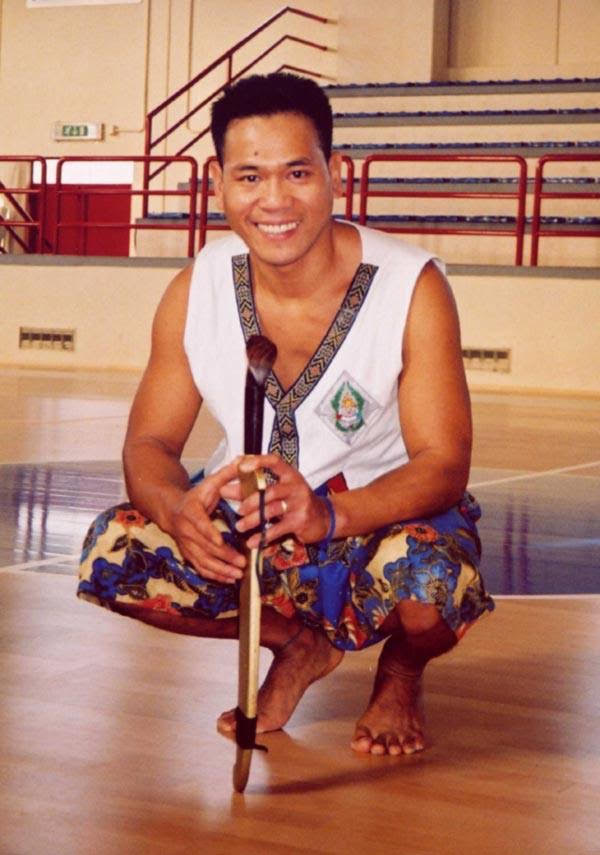 Punong-Guro (Master) of Angkán Felices Kaliradman)
Ajarn 14th Khan Rolando Julio Felices
Contract Mestre in Capoeira
Achievements:
Muaythai: 2005 - Won 2nd Place World Championship in Muaythai-Boran 2005 with Asst. GM Ralf Kussler
1985-1989/90: US Navy

Rank: BT3 3rd Class Petty Officer
Rating: Boiler Technician
Achievements (others): Recommissioned Plankowner / World Cruise
Ship: US Navy USS MISSOURI BB-63
War Deployments: Persian Excursion, Joint Task Force Middle East 1987, Battle Group Echo 1987-1988

1989-1993/94 US Army

Rank: Specialist / Platoon acting Sergeant
MOS: 13 M10 Multi Launch Rocket System Crew Member Gunner.
With A 2/32nd and A 4/27th Field Artillery;
War Deployments: Desert Shield, Desert Storm, 10 years overall Active and inactive reserve services.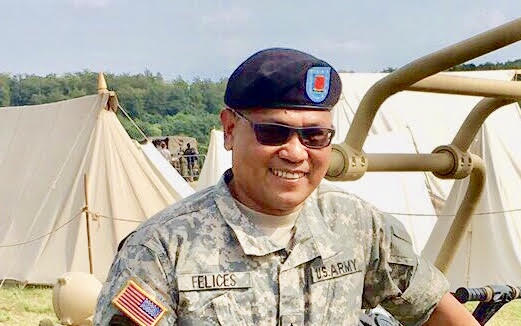 Decorations:
Navy and Army Good Conduct Medals; Army Achievement Medal; National Defense Service Medal; Armed Forces Expeditionary Medal; Combat Badge; Navy Meritorious Medal; 3x Navy Battle Efficiency Ribbons; 3x Sea Service Deployment Ribbons; Grenade Expert; Sharpshooter M-16 / M-4; Sharpshooter 1911 pistol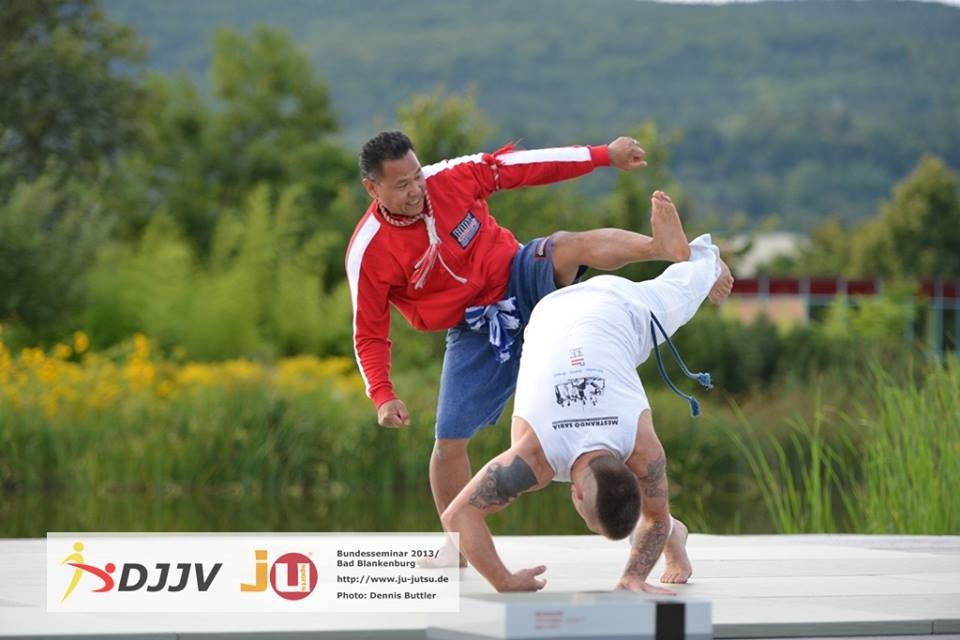 Martial Arts History:
Muaythai:

Teachers: AGM Ralf Kussler, GM Woody, GM Sane, and GM 'Kru Pho'; AGM Suphan
Membership: since 1996 via IAMTF (International Amateur Muaythai Federation / AITMA (Association International Thai Martial Arts) / now Registered under KMA (Kru Muaythai Association)

Angkán Felices Kaliradman/ Eskrima; Sikaran; Tai Chi Chuan; Brazilian Jiu Jitsu; Capoeira
Military hand to hand combat; US Military Combatives; US Army Close Quarter Combat & Close Quarter Battle
Brief Awards history:
1993- 2019: German-American Open Martial Arts Championships (fighting in discipline of Muaythai; Eskrima; Capoeira)
1999-2019:

TheBODYSHOCK Muaythai Team; actively competing and fighting in Muaythai and Muayboran Won various titles including International, National and European titles; Trained various fighters for Muaythai bouts in Ayuthaya, Hua hin, Bangkok etc. in Thailand and under IFMA; AITMA & KMA World Championships in Muaythai n Muayboran.
Founder and Organizer of Philippines & Thailand Training n Adventures since 1998, active until present.
National Contributions and donations : 2005-2019
As a Reference Head Instructor in Muaythai and Boran; Kaliradman weapons sysytem; Capoeira for the:
DJJV; Accademia Moros of Sardegna; Martial Arts Schools in Torino & Parma; Budo Lehrgänge in Dortmund; 1& 2 Filipino Martial Arts Festivals; Philippines Muaythai and FMA gyms;
Nikolaus Budo Lehrgang (Nicholaus Budo Seminars) Donations went to Weisse Ring (White Ring- this Organisation takes care of single mothers and divorced and abused wives and their children;
Forchheimer Hospizverein (Hospice Club In Forchheim)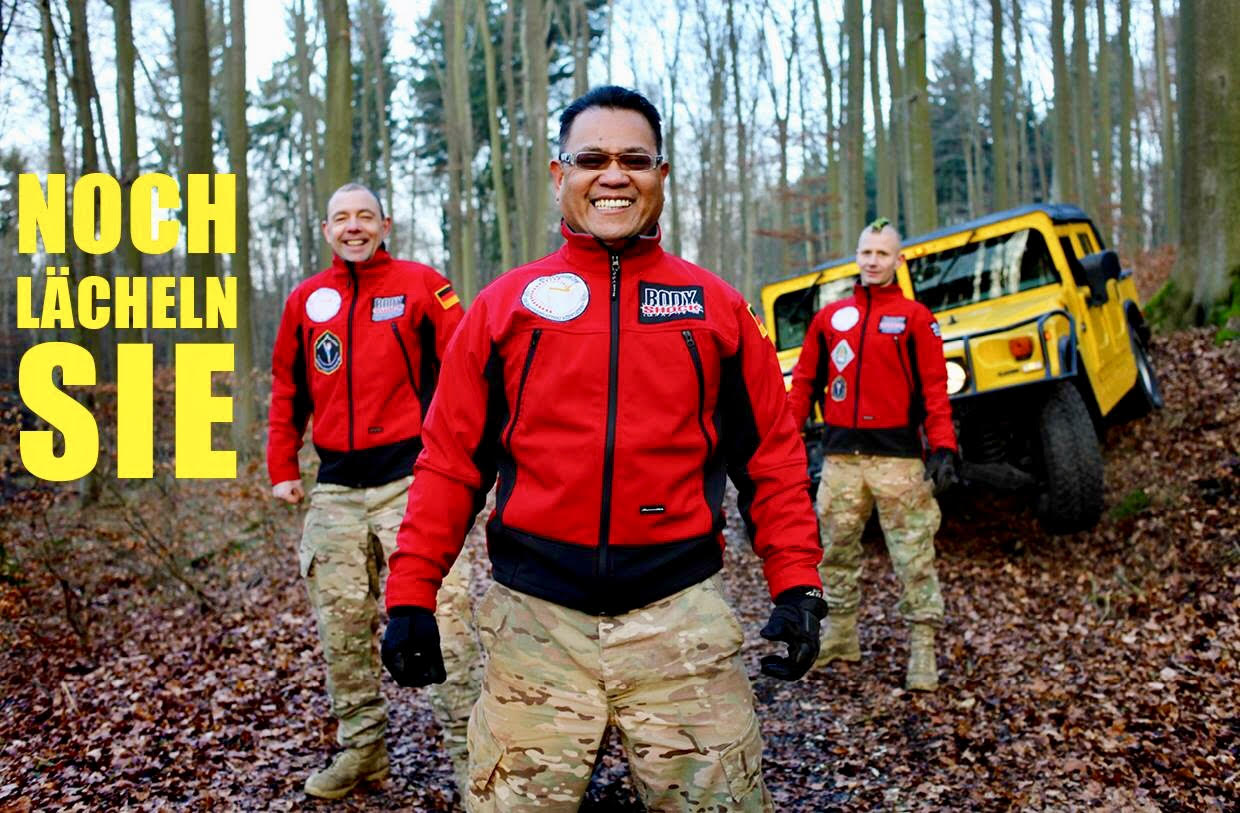 Additional Information:
Nationality: US Citizen
Place of Birth: Manila Philippines
Country of residence: Germany
School / Gym: TheBODYSHOCK Team Germany
Contact
Website

Email

Phone

+49 172 6904615

Address

Ursulum 7
35396 Giessen
Return to Bios