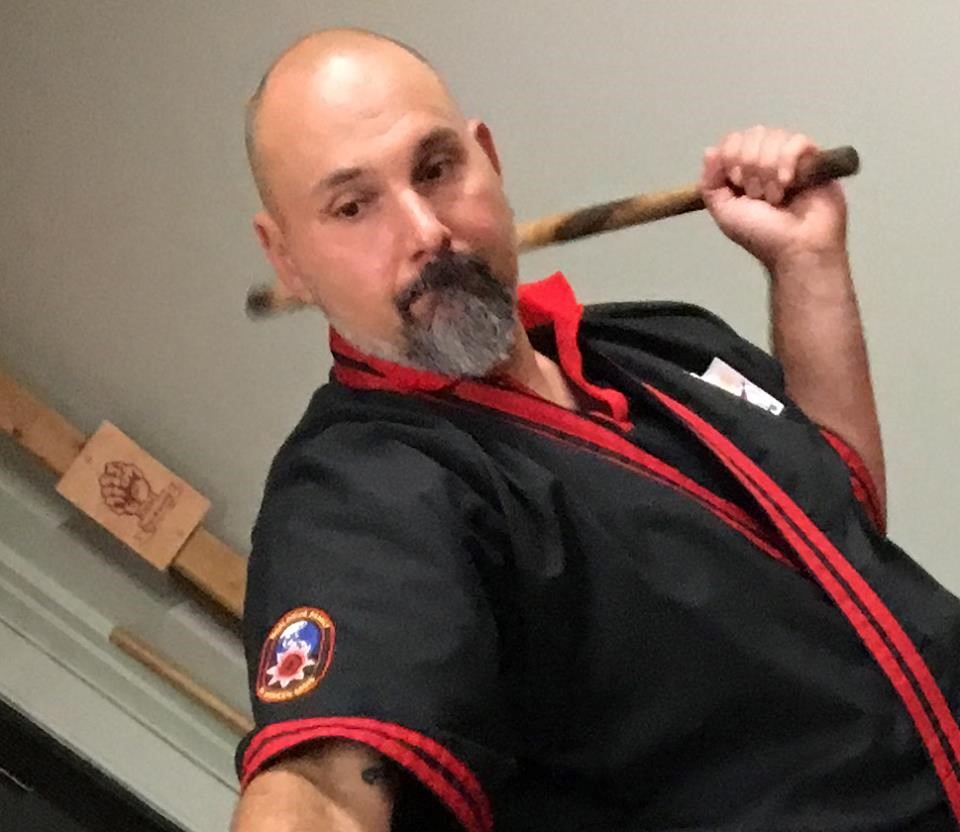 In memory of the late Master Jimson Dearos, GM Cristino Vasquez, and GM Bebing Lisondra – By the light of your life's contributions to martial arts our path is that much brighter. Thank You.
- Rest In Peace
Born in Toronto, Ontario on October 12, 1972 as a first generation Canadian, Jason R P Bassels brings to the study of the martial arts a comprehensive skillset that stems from life experience. As a child he explored judo, boxing, taekwondo and wrestling. Growing up as the oldest of three in a single parent low-income neighbourhood created many obstacles that established a sense of community, work ethic, and social merit early on. Many of his lessons today stem from a perspective that fighting is ultimately about survival, management, refinement and work ethic, a perspective reflected deeply in how he teaches and studies the martial arts today.
His future as a professional martial arts student and teacher took shape in his early twenties following the mentorship and instruction of Sensei W.M. Platt who was pentacle in his decision to dedicate his life to the study of martial arts and contribute to its growth in Canada - a commitment that sees him train weekly.
In 2007, a relationship began to evolve with GM Bambit Dulay, a leader in his community and a tireless champion for Arnis. This ignited a substantial interest to deepen his training that began in 1998, and contribute to its presence within Canada. Out of this mentorship, he was fortunate to train with Master Jimson Dearos, which helped fuel his passion for the classics, notably the doble baston and krusada.
Martial Arts Education
Five-time white belt Competed at many competitions world wide, placing 1st and 2nd in many.
1st Kyu Jodo - Kendo Federation – Canada
Laoshi Niei Chi – internal arts, TaiChi, Qi Gong, Bagua – CMAC (Classcial Martial Arts Canada)
5th dan Okinawan Kobudo – CMAC
5th dan Goju Ryu Karate-Do – CMAC
Certified Head Instructor – MATTI (Modern Arnis Tapi Tapi) Canada - appointed by IMAF council of masters (International Modern Arnis Federation) Philippines
Spanning thirteen years of travel, 2004 - 2017 he has traveled to, studied and trained at multiple, "hubs," of the martial arts:
Quanfa (fist method) at the Northern Shaolin Temple, Dengfeng, Henan China - establishment of many teachings by a Greco-Buddhist Monk named Bodhidharma, that would shape a large foundation and philosophy of multiple styles of martial arts worldwide - influences still rich today.
Southern Shaolin Quanfa, Quanzhou, Fujian Province China – significant influence upon styles that would blossom in the south and influence tode, eventually what would become Karate-do
Fujian White Crane in Yongchun Village, Fujian Province China - White crane KungFu system that greatly influenced Okinawan Karate-Do
Dai Nippon Butoku Kai, Kyoto Japan - established by His Royal Highness Meiji Emperor to solidify and standardize martial arts disciplines in Japan. Through Hanshi R. Kim, one of Sensei Platt's main mentors and teachers, C.M.A.C. was established in Canada.
Various Taoist Monasteries in the Wudang Mountains, Hubei China - A main conduit through which TaiChi Chuan, QiGong and Bagua Zhang stemmed out of "Neijia" (internal) and "Waijia" (external), and from which much of CMAC's (internal arts) Nei Chi stems from.
Metro Manila, Cebu, and Negros Occidental, Philippines – a few of the main locations through which Arnis consolidated out of the multiple classical styles throughout the archipelago of the Philippines, central hubs to the evolution of IMAFP by its founders, to coordinate and preserve these many styles fundamental to the identity of the Philippines and its history.
Teaching Experience
2003 - began teaching martial arts part-time in St Catharines, Ontaro, Canada
2005 - began teaching martial arts full-time in Mississuaga, Ontario Canada
Director of Classical Martial Arts Centre in Mississauga, Ontario, Canada, overseeing a faculty of directors and instructors and their students, a contingent of nearly five hundred.
Produced over 50 adult black belts in Goju Ryu Karate-do and Okinawan Kobudo.
Organized and has taught multiple seminars, art shows, events, and demonstrations in support of the classical martial arts, in China, the Philippines, and Canada.
Chief Instructor for Canada - MATTI IMAFP
What He Has Given Back in Service as a Martial Artist
Raised tens of thousands of dollars in support of ecology, animal and human rights, education, the arts, health, and many other causes.
Board Member for Willow Park Ecology Centre in Halton Hills, Ontario, Canada (A centre that promotes the ethical management of the environment through education).
Supports the local community (children's sports clubs, veterans' groups, firefighters' groups, public and private schools, charities, and local services).
Mentors a faculty of full-time, part-time, and assistant instructors to allow for the preservation of the standards, and continued promotion, of the classical martial arts and its values.
Organizes martial arts scholarships for children from low-income families
Sponsors martial arts classes throughout the school year for children, in association with SHIP - Peel Youth Village (Services and Housing in the Province)
Notable Seminars and Demonstrations
Organized the karate-do launch of the 2015 "Ignite" Pan Am Games in Canada, with over 200 CMAC students, demonstrating in the all-day event.
Arnis demonstrations for audiences in the hundreds at various Philippine independence day celebrations and the Harbourfront Festival, in greater Toronto.
Pre-game demonstrations for the Toronto Argonauts in the Skydome and the Toronto Raptors in the Air Canada Centre.
Niei Chi healing workshop for Immigration Canada, head office GTA.
Tai Chi Seminar for national executive groups for Novohotel.
Hosted and contributed works for the art show AIM "Bun bu ichi", (Pen and the Sword as One), AIM (Artists in Momentum) in association with Mississauga, Ont Arts Council - promoting healing through the arts.
Led the CMAC Wushu and Niei Chi contingent of thirty students on a training trip that encompassed Northern Shaolin Chuan Fa, Bai He Quan (White Crane), Wudang Quan and Southern Shaolin Quan, through out China, over six weeks.
Doble baston seminar at Luneta Park, Metro Manila, Philippines
Ongoing and Future Goals
Continuing excellence in martial arts education - especially among children.
Refinement of children, youth, and adult lessons beyond the "fight" and into "life"
Propagation of quality martial arts through mentorship and certification of qualified instructors
An upcoming art show at the end of 2017 and fall 2018, named "Fighting - Jazz Toronto in 3B," will focus on the refinement of a martial artist as an instrument, employing images of Toronto-based musicians as the metaphor.
A book of poetry for children that employs martial arts philosophies about "life and growing up" is soon to be published.
Contribute to the expansion of MATTI IMAFP and Arnis in Canada
Continue to contribute to Classical Martial Arts Canada as an example of the sovereign Canadian contingent of martial arts in the world.
And Being the best husband, and father to his two little boys.
Contact
Website

Facebook

Email

Phone

905-817-0453

Address

8-1010 Dream Crest Road
Mississauga Ontario Canada
Return to Bios