Grand Master Bram Frank - CSSD/SC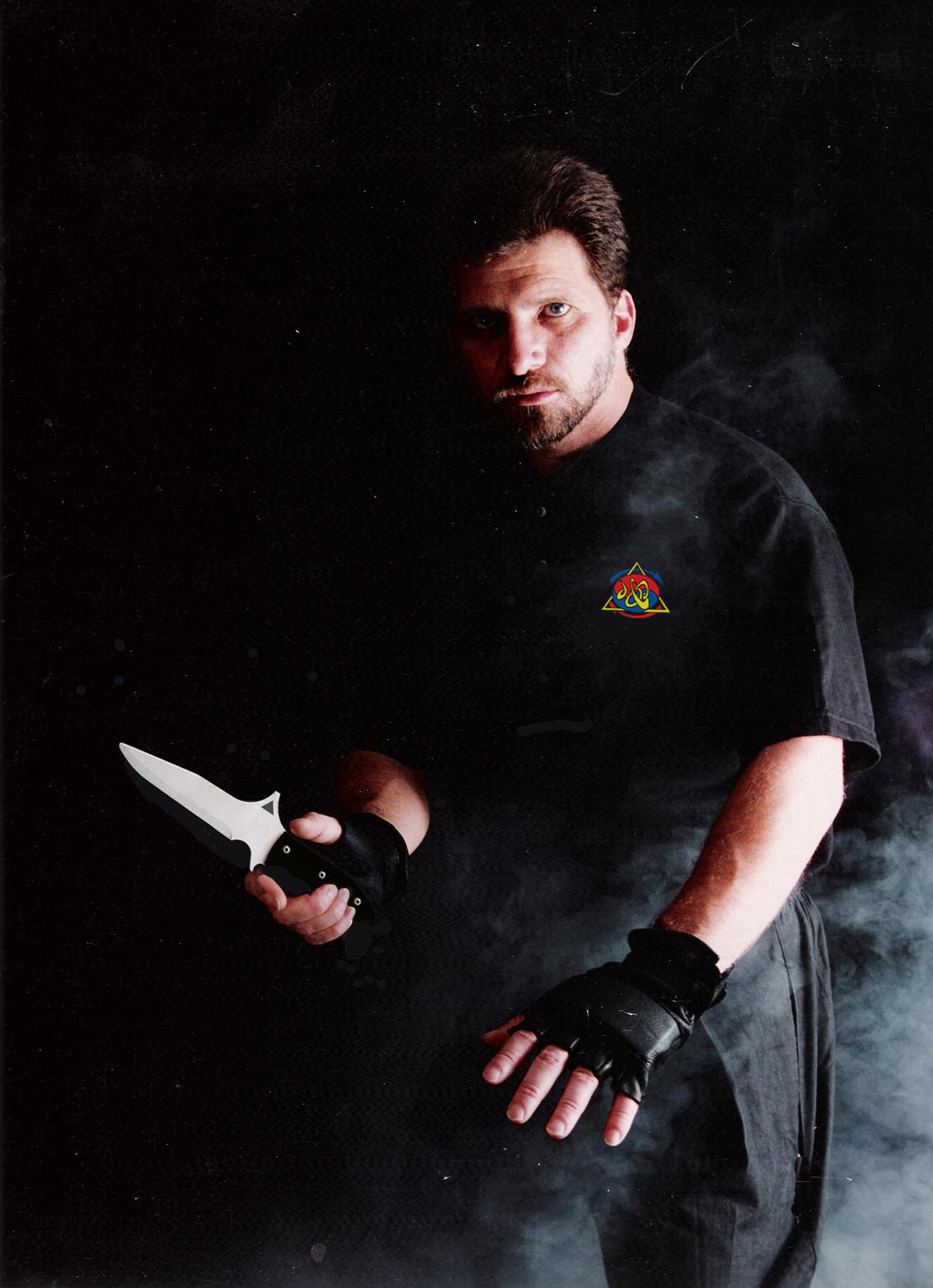 COMMON SENSE SELF DEFENSE - STREET COMBAT
Tactical Founder - Director: Bram Frank - MBC
Bram Frank is a first generation personal student, and disciple of the late Grandmaster Remy Presas, the Father and Founder of MODERN ARNIS. He was with Professor Presas from 1980 till his untimely demise in 2001. Bram has studied various fighting arts such as Wing Chun, JKD, American Freestyle Karate for over 49 years and has taken the principles from each as they can be applied to Filipino Martial Arts. Bram holds Dan rank in several arts and has been Director of Blunt and Edged weapons training for several federations worldwide. Currently he is Director of Edged Weapons training at the S2 - CIS Law Enforcement - Security Institute. Over the last several years Bram has concentrated on the use of edged weapons / tools as a principle instrument of self defense and its use in Military, Police and Anti Terror applications. The World Head of Family Sokeship Grandmaster Council in 2003 recognized Bram as the First Modern Grandmaster on their council: the Grandmaster of a Tactical - Combative Fighting art: Common Sense: Self Defense - Street Combat and its Tactical application Modular Martial Blade Craft.
In 2014 he was recognized as a Legendary Grandmaster: Knife combatives and development.
In 2004 while in the Philippines The Senior Master Council of Modern Arnis: consisting of such Arnisadors as GM Vic Sanchez, GM Roland Dantes, GM Jerry DeLa Cruz, and GM Rodel Dagoc recognized Bram as a Senior Master of Modern Arnis. In 2006 in the Philippines at the Remy Presas Memorial Festival and 3rd Filipino Martial Arts Festival in Tagatay, the International Modern Arnis Federation of the Philippines consisting of Modern Arnis dignitaries such as GM Rene Tongson, GM Cristino Vasquez, GM Roberto Presas recognized - acknowledged Bram as Grand Master of his CSSD Conceptual Modern Arnis - Combat Arnis as well as a IMAFP Senior Master of Modern Arnis. In 2010 GM Vicente Sanchez and Kalis Eskrima International and Arnis Philippines recognized Bram as a Datu in Arnis. 2012 in Hinigaran Occidental Negros, the home town of Remy Presas, Bram was recognized by GM Roberto Presas (the last living Presas brother), GM Rodel Dagoc, GM Bambit Dulay, GM Cristino Vasquez and the FMA association as a Grandmaster Lakan Walo in Modern Arnis / Arnis and Master of the Blade in Modern Arnis and as a Guardian of the Presas Family Legacy of the Blade.
In 2007 the 50th Anniversary of Modern Arnis Bram was awarded the Gat Andres Bonifacio Award by the Philippine Classical Arnis Association and GM Rene Tongson in honor of his CSSD Blade systems and his dedication to the art of Filipino blade. In 2008 in Boracay at the 4th Filipino Martial Arts festival he was awarded the Lapu Lapu award: by Arnis Philippines, IMAFP and the Department of Tourism ( the regulating bodies of Arnis in the Philippines) as Master of Blade Systems and Innovator of Blade use and design.
In December of 2007 Bram was Black Belt Magazines Hall of Fame Weapons Instructor of the Year. This is Bram's singular honor that reflects and respects his time with Professor Presas who himself won the Black Belt Weapons Instructor of the Year in 1994. Action Martial Arts Magazine and their Martial Arts Hall of Fame in January of 2008 named Bram the Grandmaster of the Year 2008.
To go with these honors those in the State of Israel such as Maj. Avi Nardia of Kapap and Dr Dennis Hanover the Father of Israeli Martial Art: Dennis Survival and the Israeli Martial Arts Hall of Fame in 2007 recognized Bram after over a decade of teaching knife and knife combatives in Israel, as the Father of Israeli Knife Fighting. - Knife Combatives, In 2008 at the World Head of Family Sokeship Council Martial Arts Hall of fame, the Sokeship Council's board echoed this recognition with a special award: Historical Figure Award: GM Bram Frank Father of Israeli Knife Combatives.
Bram currently travels worldwide teaching seminars on the use of Blunt and Edged weapons to other martial artists, civilians, law enforcement and military. After 9 - 11 this type of tactical training has been on the forefront of our Anti Terror units worldwide. The Israeli Anti Terror units have called Martial Blade Craft one of the most effective Styles of knife usage in the world today. It is used by many of our USA military forces including the several Elite groups of USMC, SF and others such as PSD including UN Security, in the fight against terrorism. Bram has taught his system worldwide to other Military and Anti Terror units in their fight for freedom and security. For the past decade he has been rated one of the top ten knife instructors in the world by Tactical Knives Magazine. He is the Chief Edged Weapons and CRMIPT instructor at the S2 - CIS Academy and KKP Security for the last decade. He is an SME Subject Matter Expert on knives and their use for the State of Florida and Washington and does testimony on this subject for attacks and murders involving knives. Bram has become the Chief CQC Close Quarter Combat instructor and Director of training at Airborne Security and Wells Fargo Security.
Bram has designed and holds 4 patents in knife design and operation: the world's first Kinetic Opening Full force continuum tool and knife, the Puzzle lock, The Gunting tactical folder, and the Abaniko Tactical fixed blade. His first knife was made by REKAT the Escalator which later evolved into a modern version made by SPYDERCO knives: the Gunting. The concept has spread to new versions such as the Lapu Lapu Corto by Chersuker Messer and then to Bram's own company CSSD/SC. Versions of his knives are carried by the USMC PSD and RECON. The LLC won TACTICAL KNIFE OF THE YEAR at IWA, Europe's largest Military, Security and LE Show. He has helped design the newest bayonet - fighting knife of the USMC made by Ontario knives. Currently he has more patents on his newest fixed blade fighting knife for Military and Anti Terror Units; the ABANIKO Tactical knife. He has Utility patents on Kinetic Opening, Indexing and the Puzzle lock all in use on many new designs: each rooted in Filipino tradition.
To go with these knives Bram has designed full training programs in a Modular 'train the trainer' format allowing anyone to learn the skills needed in a short amount of time... "Learn in 6, teach in 12" It is a must system as "RECON" has said because it allows for combative reality with an edged tool... in a reasonable time frame with great retention of knowledge by those training.
The LLC - Gunting knife and its Non lethal counterpart the CRMIPT have become part of several LE agencies approved carry and SOP within Hialeah PDS force continuum for 2010.
The newest Gunting LLC the Bowie has just come out in 2015 and it's the first Bram knife in 30 years to have Bram's name on the knife instead of it being licensed out to a major company. It uses his more advanced Compound Puzzlelock, has dual indexing, proud liners, spoon clip and a "Bram bowie blade" influenced by his love for the Randall model #1. The newest LLC will have 5 other blade shapes coming... Gunting Spearpoint, Katana, Persian, #2 Dagger and tactical Tanto!
Contact
Email
Return to Bios